LUANG PRABANG
Luang Prabang literally means Royal Buddha Image and is now a UNESCO World Heritage town. The community once occupied the center of a kingdom of the same name, Luang Prabang, and later prevailed as the royal capital and seat of government for the Kingdom of Laos until 1975 when the communist government ascended to power and changed the official name to Lao People's Democratic Republic.
It was a logical location, logistically and strategically, for the nexus of a once thriving kingdom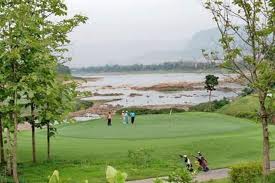 . The remoteness and insulation of tropical mountains on the one side complemented the commercial and navigational natural resource, the Mekong River, on the other side.
Since the campaign to invite tourists to visit Laos began in earnest just a few years back, Luang Prabang has grown to preeminent stature in the region as a must-see destination for Lao people and for inbound international tourists. Evidence of its popularity is apparent in its lift with direct flights arriving from neighboring countries in Southeast Asia.
Luang Prabang is still a budding Laos golf destination and that is part of its charm. You will find more and more golf travelers mentioning it as time goes on but for now Luang Prabang is one of Southeast Asia's charming little secrets outside of the region. Apart from the excellent golf course and lush vegetation, the preservation of cultural traditions from authentic villages to working rice fields, and the unique sightseeing tours are what drive this community's tourism arrivals.
Here are just a few of the many interesting side trips and natural phenomena attractions that receive high marks by local, regional, and international tourists to the area.  Most popular among the sights to see are the Xieng Thong Temple built in 1560, a UNESCO world heritage site; the Pak Ou Cave Tour by Riverboat; the Elephant Riding & Trekking Tour; the Tad Sae Waterfalls; and Phoussi Hill Temples & Museum.
Whichever direction your interest beckons in Luang Prabang, you'll be well served when you contact one of our Laos Golf Holidays package professionals for answers and booking assistance.