VIENTIANE
Vientiane's laid-back atmosphere may be the first thing you notice about the Lao capital city, with people strolling and traffic rolling unhurriedly past patrons poised at sidewalk café tables. The second thing you may notice is how clean the Lao people keep their largest city. Litter is the exception rather than the rule in Vientiane. Sidewalks and streets are swept clean every morning and unimposing signs extol the virtues of being a responsible Lao citizen and keeping the country clean.
Actually, the second thing you might notice on your Laos Golf Holiday, if it is morning and they are baking when you arrive in Vientiane, is the fresh aroma of warm bread wafting through the air. The French influence in the region left a legacy of, and appetite for, fresh baguettes and sweet pastries. Vientiane is Heaven for golfers and tourists that appreciate the culinary arts and delectable international cuisine in general; freshly baked bread and pastries in particular.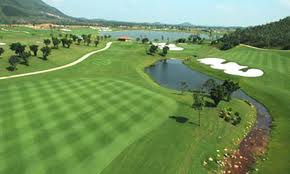 Fashionable sidewalk cafes like you might find in Los Angeles, Paris, Milan, or Madrid prevail in the central tourist area around Vientiane's Nam Phou Fountain. English is widely spoken and courteous citizens are not shy to assist traveling guests with directions or other information. Public transportation is in the form of tuk-tuks, three-wheeled vehicles best described as a motorbike front end fastened to a pickup truck bed fitted with bench seats and shaded by an awning.
Tuk-tuk drivers are not shy either and will solicit your business enthusiastically at times. Any time you are in a foreign country the rule of thumb is to always select the taxi or tuk-tuk rather than let them select you. And always get the fare agreed before you step aboard. You'll be paying more than a local but the minimum going rate for tourists to travel by tuk-tuk in Vientiane is 100 baht unless you know how to negotiate without offending their pride or sense of self worth.
Since you will be arriving from Thailand it is easiest to use Thai currency in Laos. Thai baht and U.S. dollars are widely accepted and much easier than keeping track of tens or hundreds of thousands of Lao kip, which is their national currency. If you are on a budget and want to gain even the smallest economic advantage then you will benefit by finding the best exchange rate available and paying everything with kip. This is because there is always a tendency on behalf of the sellers to round up when quoting prices in outside currencies.
The name Vientiane appears to have derived originally from the sacred Buddhist language of Pali, translated to indicate "city of the moon."  People throughout Southeast Asia pronounce the capital city Viangchan which can mean "city of the moon," although dissenting views do exist. It is reasoned that the pronunciation and spelling Vientiane grew out of the French difficulty in saying the ch sound.
Regardless of how you say it, Vientiane is one of the more laid back and relaxed cities of the world. The citizens are polite and properly friendly and their actions speak well for the education system in Laos. Vientiane is a city steeped in culture and history just waiting for your eyes, ears, and camera lens to discover.
No trip to Vientiane is complete without a visit to the famous Morning Market, where you will find a plethora of silk shops, gadget stalls, and souvenir touts hawking things like a cobra snake preserved in a whisky bottle. Locals shop there, as well as tourists, and it is a sensory-awakening immersion into the local culture. If the price on a cell phone or watch seems too good to be true in the crowded market, let the phrase caveat emptor come to mind.
A good way to explore the history of Laos is at the Lao National Museum where the turbulent revolutionary era of the 1970s is detailed. There is a strong cultural bond between the Lao people and the people of Thailand, especially the native citizenry of the northeastern region of Thailand known as Isan (ee'-sahn). Isan folks incorporate a lot of the Lao language into their own regional idiom. Reflecting this cross-cultural relationship in Vientiane is Wat Si Saket. Wat means temple in both Laos and Thailand. Wat Si Saket is believed to be the oldest standing temple in Vientiane, built in 1818 with Siamese influenced Buddhist architecture.
You will find numerous cultural tours in and around Vientiane, enough to keep you busy for a week or more visiting the 'A' list attractions. The best part is that you can customize your itinerary now before you leave by taking a moment to contact one of our destination professionals at Laos Golf Holidays for details and answers about golf and sightseeing in Vientiane.