Golf Courses in Vientiane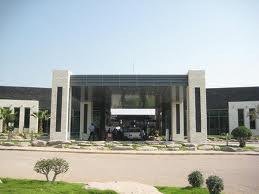 Lao CC is in very good condition because of its recent refurbishment. They did a marvelous job in upgrading the former Youth Garden Golf Course to impressive resort standards. It is one of the oldest golf properties in Laos and with time it became necessary to fix it up and they are to be commended for the professional job they have done.
You will find gently undulating fairways with mostly level lies on this course, making it an easy walk with only 35' of elevation change from the highest to the lowest ground on the property. You may also find it easy to get wet at Lao CC. There is water everywhere on this course, creating a most interesting distraction if you allow it to steal your concentration and negate your shot placement.
KM 14 on the Road from Friendship Bridge to Vientiane
Holes: 18
Yardage: 6005 yards
Par: 71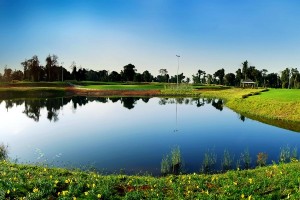 Long Vien Golf Club is the first 27-hole course in Laos. The original 18 opened in 2012 and the second 18 in 2016. The Laos golf course is located in a special duty free zone 16 kilometers outside Vientiane and 1 kilometer from the Mekong River which separates Thailand and Laos.
The Vientiane Golf Course is laid out on basically flat topography. Manmade mounding, water features, intricate sharp-lipped bunker complexes provide the main challenges. Wide fairways are framed by mature trees, flowering plants and red-grass water areas. The all Paspalum grassed course ensures good playing conditions year round. At 7,538 yards from back tees Long Vien plays a plays very long par-72.
20 kilometers from Vientiane
Holes: 27
Yardage: 7538/3520 yards
Par: 72/36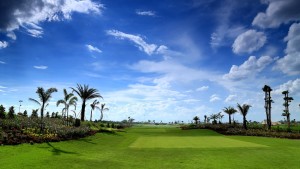 Lakeview Vientiane Golf Club is a modern resort courses located within Vientiane City. Designers have used clever mounding and earth works to transform a basically flat field into an interesting and challenging golf course.
Now a series of manmade lakes frame each hole. The undulated greens are surrounded by steep bunker complexes to ward off approaching shots and keep scores above par. Lakeview Vientiane is well maintained and uses the latest in Paspalum grass to keep playing surfaces constant throughout the year.
15 minutes from city center
Holes: 18
Yardage: 7153 yards
Par: 72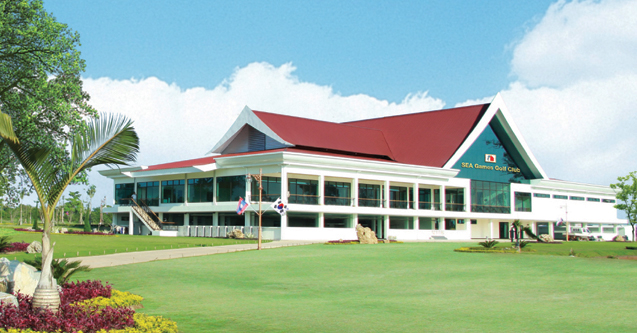 Twenty-seven holes of formidable golf await you at the course designed for official competition during the 25th Southeast Asian Games in Vientiane, Laos. Located conveniently a short 10 miles northeast of the city center it is just far enough out to escape the urban sprawl and surround you with the flora and fauna of pastoral Lao woodlands.
You will find yourself surrounded by water as well on many of the holes at this championship layout. But these are not your garden variety water hazards. They are expansive. Fortunately, they tend to add more to the view than to the shot-making, since they are for the most part lateral and you are not required to cross them so much as you need to avoid errant slices or hooks to stay dry. The largest of these bodies of water runs over 1,000 yards long and is bounded by seven holes between the B and C courses. Seven bodies of water on the property define the lateral playing areas for 18 of the course's 27 holes.
Saythany District, Vientiane, Laos
Holes: 27 Holes – A Course, B Course, C Course – built for the 25th SEA Games competition
Yardage: A=3600, B=3528, C=3611
Par: 72 in any combination of nines for 18 holes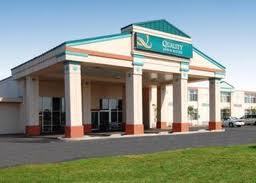 Dansavanh Golf & Country Club owns the reputation as the original international quality golf resort in Laos. It certainly owns a one of a kind location with views of Nam Ngum Lake—"the Lake Geneva of Asia"—and upland forests of palms and pines at elevations ranging from about one thousand to two thousand feet above sea level. Drive northeast out of Vientiane for about an hour and you'll come to Lake Nam Ngum. A short ways more around the southern end of the Lake and you will be able to enjoy a round of golf and make it back to Vientiane in plenty of time for dinner. Unless, of course, you decide to march in to the resort's 24-hour casino and try your luck.
Ban Phonkham, Toulakhom District, Vientiane, Laos
Holes: 18-hole picturesque course
Yardage: 6900 yards
Par: 72
Casino: Open 24 hours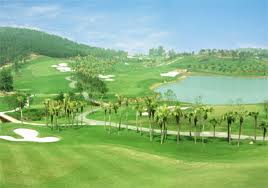 New York is so nice they named it twice. This course is so nice you'll be glad to play it twice. And you'll need to if you want to get in 18 holes because it is a nine hole track.
KM 6—which is the nickname and ordinate for its location at kilometer 6 along Highway 13 heading northeast from the center of Vientiane—is where local expats gather for their regular games. The location is quite convenient and accessible but the reason they congregate at KM 6 is to enjoy a very well kept Laos Golf Holidays golf course that is tight in places and rewards good shot making over a distance for nine holes that doesn't wear down the senior golfer.
Vientiane Club KM6 Ban Nonesavang, Vientiane
Holes: 9-hole course set in a beautifully serene landscape
Yardage: 3200 yards
Par: 72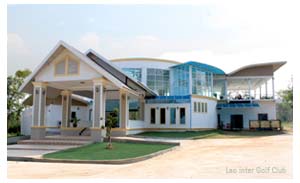 Mekong Golf & Resort, former Lao Inter Golf Club & Resort, opened in 2012 located about 12 kilometers, as the crow flies, northwest of the Wattay Airport in Vientiane, adjacent to the Tadmoon Waterfall. It is maturing nicely and it is a pleasant playing experience with some wide fairways and few water hazards to worry about. One hazard that you may have to worry about is the green that, similar to the 6th hole at The Riviera CC in Los Angeles, has a sand trap right in the middle of it.
Ban Champa, Sikhottabong District, Vientiane
Holes: 18
Yardage:6408
Par:72
Golf Courses in Luang Prabang
Nestled among verdant foothills, serene rice fields, and the Mekong River, exotic Luang Prabang Golf Club, and the UNESCO World Heritage city, Luang Prabang, linger in Laos tranquility. Carved through tropical valley and foothill foliage, this resort course gently rolls over hillocks and knolls and across terrain punctuated by interesting water features that come into play on seven of the eighteen holes. Like all Laos Golf Holiday courses, Luang Prabang's dining and locker facilities are world class.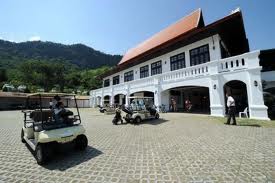 Luang Prabang Golf Club sits about 6 km west from the center of town, situated along the south bank of the Mekong River surrounded by forested tropical mountains. Holes 14 through 17 parallel the riverbank with the par three 17th playing right along the river's edge. Water is evident on nine of the 18 holes but really only comes into play on holes 3, 5, 7, and 14. The par four 18th hole plays uphill 35' over 375 yards from the tips to a medium-sized green that slopes 7' right to left across 75 feet of putting surface. The greens in general tend to be medium to small. Elevation changes across the entire layout are mild with hole 18 being the only exception and walking is not difficult, consisting of level to gently undulating terrain contours.
Southbank, Mekong River, Luang Prabang, Laos PDR
Holes: 18, with finishing holes along the water.
Yardage: 7443 yards
Par: 72