Southbank, Mekong River, Luang Prabang, Laos PDR
Holes:  18, with finishing holes along the water.
Yardage:  7443 yards
Par:  72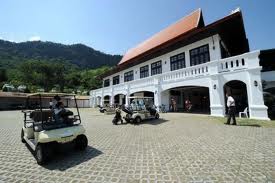 Luang Prabang Golf Club sits about 6 km west from the center of town, situated along the south bank of the Mekong River surrounded by forested tropical mountains. Holes 14 through 17 parallel the riverbank with the par three 17th playing right along the river's edge. Water is evident on nine of the 18 holes but really only comes into play on holes 3, 5, 7, and 14. The par four 18th hole plays uphill 35' over 375 yards from the tips to a medium-sized green that slopes 7' right to left across 75 feet of putting surface. The greens in general tend to be medium to small. Elevation changes across the entire layout are mild with hole 18 being the only exception and walking is not difficult, consisting of level to gently undulating terrain contours.
This is a relatively new track and it features fairway landing areas 35-40 yards wide, bordered by moderate rough depending on how it has been cut. There are sand traps protecting most of the greens and a liberal use of fairway bunkers affects the placement of your tee shots on every hole except 14 and the par three holes.
One priority of the project from its inception, through its construction, and now during its operation, is maintaining their policy of being environmentally friendly in every way.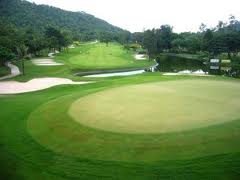 Like most memorable and classic venues, Luang Prabang takes you on a journey. There are no parallel fairways so you really enjoy the sense of going somewhere as you play out away from the River on the front nine. On the back you play in getting gradually closer to the majestic Mekong over four of the last five holes until you are beside it for the last 190 yards at the par three 17th before you turn up the 18th fairway toward the clubhouse.
At 7,443 yards from the tips and par 72, it is a picturesque and liberating challenge you are certain to embrace, and afterward you'll unwind in the congeniality of the comfortable clubhouse. Specify this resort and lead your friends and colleagues to a venue that is destined to gain prominence worldwide, and seal your status as a pioneer. Please contact one of our courteous Laos Golf Holidays booking professionals for answers and assistance in adding this unique experience to your pleasure trove.
Luang Prabang Golf Club  Tee-Off & Golf Holiday Reservation Form