Saythany District, Vientiane, Laos
Holes:  27 Holes – A Course, B Course, C Course – built for the 25th SEA Games competition
Yardage:  A=3600, B=3528, C=3611
Par:  72 in any combination of nines for 18 holes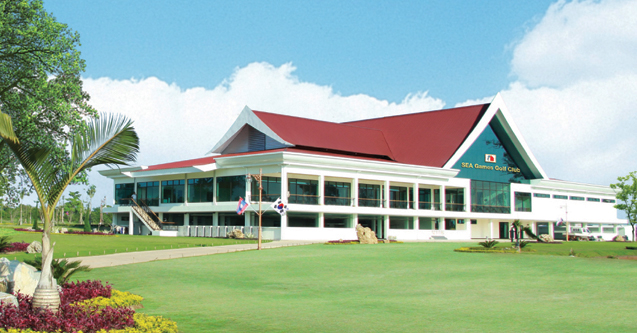 Twenty-seven holes of formidable golf await you at the course designed for official competition during the 25th Southeast Asian Games in Vientiane, Laos. Located conveniently a short 10 miles northeast of the city center it is just far enough out to escape the urban sprawl and surround you with the flora and fauna of pastoral Lao woodlands.
You will find yourself surrounded by water as well on many of the holes at this championship layout. But these are not your garden variety water hazards. They are expansive. Fortunately, they tend to add more to the view than to the shot-making, since they are for the most part lateral and you are not required to cross them so much as you need to avoid errant slices or hooks to stay dry.  The largest of these bodies of water runs over 1,000 yards long and is bounded by seven holes between the B and C courses. Seven bodies of water on the property define the lateral playing areas for 18 of the course's 27 holes.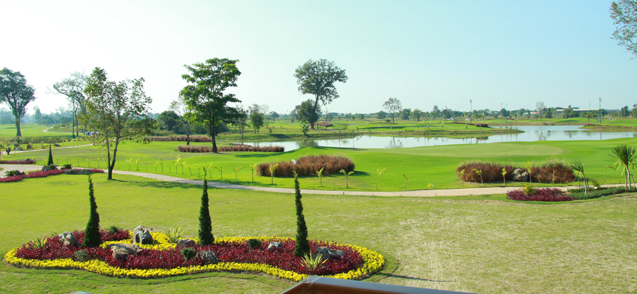 Players that know South Florida golf will find SEA Games GC similar in terrain to those generally flat, links types of tracks. The entire elevation change across the 27 holes is only about 15 feet maximum.
Some of the greens might as well be island greens for all the water around them, but in fact they are peninsular. You certainly do not want to hit long into these greens or you'll have some big numbers on your scorecard. The course in general gives you a peninsular feeling as you observe water left and right from many of the fairways, tees, and greens.
If you are planning a Laos Golf Holidays incentive trip for staff and customers and there are a lot of them, this is an ideal venue in Laos. The 27 holes can allow you to get your group all back to the clubhouse at more or less the same time, which is important for transportation and other logistics.
The serious players in your group that scare par now and then will find the length and course management this layout demands to provide a most exhilarating few hours of golf, over and over again. The recreational golfers among you will relish the ambient nature and forestation while feeling relieved at how well the forward tee positions have been orchestrated to lessen the severity the long hitters experience, allowing everyone to have fun. When you have questions, please contact one of our courteous Laos Golf Holidays booking professionals for answers and assistance.