KM 14 on the Road from Friendship Bridge to Vientiane
Holes:  18
Yardage:  6005 yards
Par:  71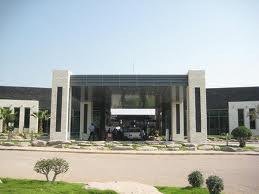 Lao CC is in very good condition because of its recent refurbishment. They did a marvelous job in upgrading the former Youth Garden Golf Course to impressive resort standards. It is one of the oldest golf properties in Laos and with time it became necessary to fix it up and they are to be commended for the professional job they have done.
You will find gently undulating fairways with mostly level lies on this course, making it an easy walk with only 35' of elevation change from the highest to the lowest ground on the property. You may also find it easy to get wet at Lao CC. There is water everywhere on this course, creating a most interesting distraction if you allow it to steal your concentration and negate your shot placement.
Remember never to let water make you nervous. Your body doesn't know do or don't, it only understands where your attention is focused. Focus your attention on "don't go in the water" and your body aims to follow your attention. Fasten your attention to where you want the ball to land.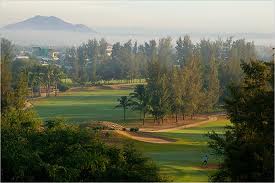 You'll get your hint of what is to come on the first hole where decorative water envelopes the tee boxes on the left and right sides, with the water on the left running nearly the entire 349 yards from the back tee to just short of the green. The last 75 yards to the green has lateral water on the right waiting to soak an errant shot. And this is just the beginning. But it is a good beginning because it has introduced the nature of what is to come without actually putting the water in your way.
Some of the teeing grounds have water in front of them but this is more cosmetic and psychological than strategic because the distances to carry the hazards is modest. From the tees, the fairways are generous with well-placed bunkers in the landing areas. And the greens are immaculately mowed to a comfortable speed with no encroaching foreign grasses prevalent.
This Laos Golf Holidays course typically plays at a good clip due to a self-imposed limit on the number of groups allowed to play each day—60 groups—and the tee times are well spaced, adding to the very comfortable pace of play. You can expect to be neither pushed nor delayed on this finely refurbished country club layout. If you are ready to learn more, please contact one of our courteous Laos Golf Holidays booking professionals for answers and assistance in embarking on one of the greatest trips of your life.
Lao Country Club Tee-Off & Golf Holiday Reservation Form