Ban Phonkham, Toulakhom District, Vientiane, Laos
Holes: 18-hole picturesque course
Yardage: 6900 yards
Par: 72
Casino:  Open 24 hours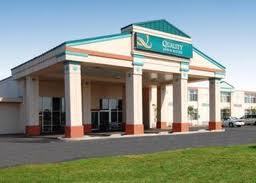 Dansavanh Golf & Country Club owns the reputation as the original international quality golf resort in Laos. It certainly owns a one of a kind location with views of Nam Ngum Lake—"the Lake Geneva of Asia"—and upland forests of palms and pines at elevations ranging from about one thousand to two thousand feet above sea level.  Drive northeast out of Vientiane for about an hour and you'll come to Lake Nam Ngum. A short ways more around the southern end of the Lake and you will be able to enjoy a round of golf and make it back to Vientiane in plenty of time for dinner. Unless, of course, you decide to march in to the resort's 24-hour casino and try your luck.
This course has many interesting doglegs. Eight of the 18 holes, almost every other hole, is a dogleg. Five of them dogleg right while three angle around to the left. This makes placement off the tee a real priority. If you cannot cut the corner with your tee shot or hit it long enough to bend the ball around the corner, a good rule of thumb for reasonably straight hitters is to tee your ball at the same side of the tee box as the dogleg goes, e.g., dogleg left, tee it left.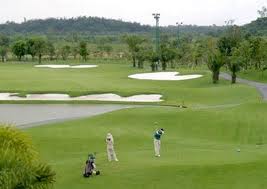 Not only do you have the magnificent views of one of Asia's largest lakes as you play this championship course, you also have the challenge of negotiating Dansavanh's water features throughout the course. And throughout is not an exaggeration. Water comes into play on no fewer than 13 of the holes at this fine resort.
The layout tends to be hilly in places requiring shots to be played from an interesting variety of lies. If you are not accustomed to walking, you may find that this course will tire you out if you decide to hoof it. It can be a little tiring even in a cart at times, measuring almost 7,000 yards in length from the back tees. But it is truly a championship track in a gorgeous setting; one that you'll likely want to play more than once.
If you are like most Laos Golf Holiday guests, you'll want to take a moment to gander at the stunning view from the 10th hole while your partners are hitting. The greens are quite fast and true so if you bring your flat-stick 'A' game you'll have some good chances at scoring well. If you like manicured fairways and manageable rough you will be a happy camper in the upland tropical forests surrounding the 224 square mile "Lake Geneva of Asia." For assistance and answers, please contact one of our courteous Laos Golf Holidays booking professionals.